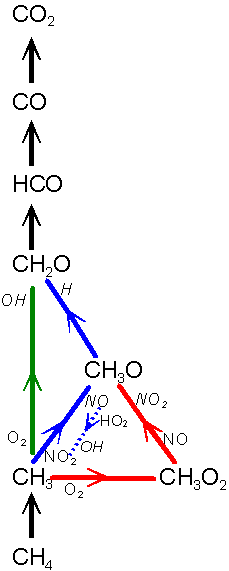 Mechanistic studies
An existing reaction mechanism3 was expanded to cover the experiments. Reaction followed three main paths: Above 1200K and in the absence of NOx the direct green path dominates reactions, while the blue path with branching regeneration of NO2 dominates at low temperatures in the presence of NO2. In the presence of NO alone initiation is through the red path which produces H-radicals and NO2 which activates the blue path. The inactive intermediate temperature range in the presence of NO is caused by a slow initial generation of radicals and NO2 due to competition between the direct green path and the red initiation path. Therefore, this phenomenon is only observed at short residence times.
Conclusion
- NO and NO2 enhances methane oxidation
- On-set of oxidation is lowered from 1200K to 950K in the presence of NOx
- At residence times below 150 ms an intermediate inactive temperature regime may exist if NO is the only NOx species present
- CO is a stable end-product at temperatures below 1100K
- Possible reaction paths have been identified
- CH3O2 is an important intermediate in the absence of NO2.
References
1. J. H. Bromly, F. J. Barnes, S. Muris, X. You, B. S. Haynes. Comb. Sci. Tech. (1996), 115, 259-296.
2. P.G. Kristensen, P. Glarborg, & K. Dam- Johansen. Comb. & Flame (1996), 107, 211- 222
3. P. Glarborg, M. U.Alzueta, K. Dam- Johansen, J. A. Miller. Comb. & Flame (1998), 115,1-27
Acknowledgments
This work was supported by the Danish Ministry of Energy, the Danish Gas Technology Centre and the CHEC Research Programme. The Danish Gas Technology Centre is sponsored by the national and regional Danish gas companies. The CHEC (Combustion and Harmful Emission Control) Research Programme is cofunded by a.o. the Danish Technical Research Council and the Danish energy consortia Elsam and Elkraft.